Best Apple Shortcuts for Shopping Online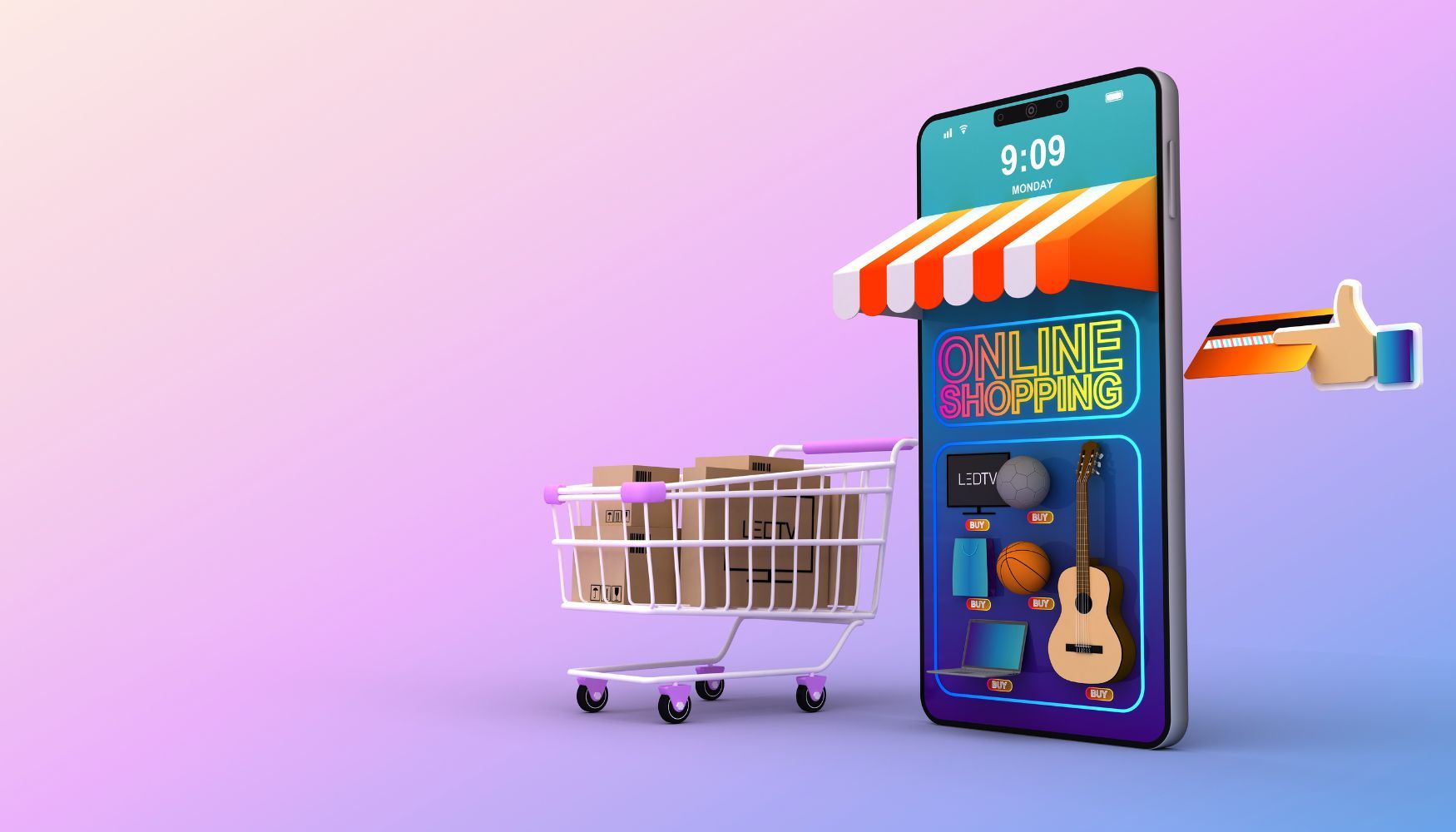 Online shopping is increasingly present in our daily lives, from buying tangible products on Amazon or similar stores, to buying digital products, such as games, apps, streaming services, etc.
But if we are going to buy anyway, wouldn't it be better to do it intelligently, and it's on that premise that the Shortcuts we are going to talk about today are based. Our community developers are always thinking about cool things and how to develop shortcuts that are of tremendous utility, and this pair of shortcuts are a clear example of that, without further ado, let's go there.
Amazon Tracker is the ultimate shortcut that every discount fan must have, because with Amazon Tracker you can know when a product is at its lowest price, review the price history and receive alerts when a product drops to the price you want.
How to use Amazon Tracker
To start using Amazon Tracker, start by adding it from Routine Hub, once you have added it to your Shortcuts library, we can run it to review its functions, however, Amazon Tracker will not give us information if we do not do it from a specific product on Amazon.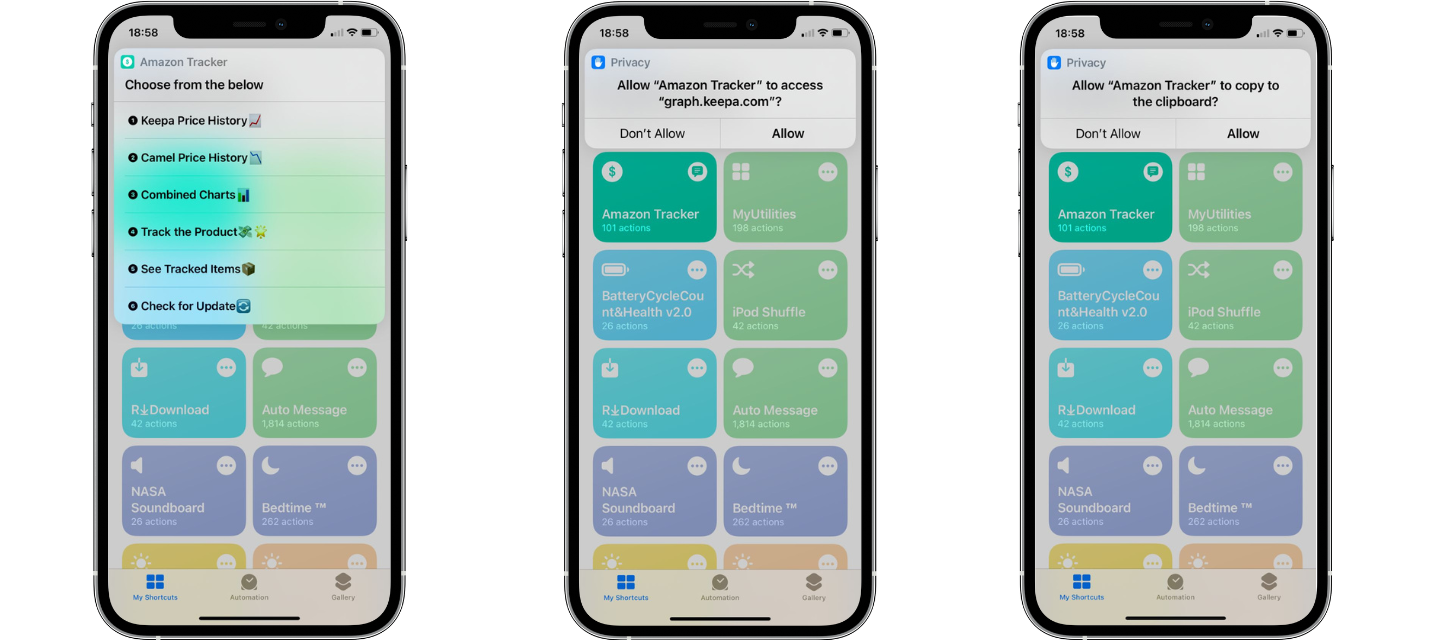 To start using on any Amazon product, we go to the product that we want to buy, click on the share button, select Amazon Tracker, then the option we want to see and allow the permissions. .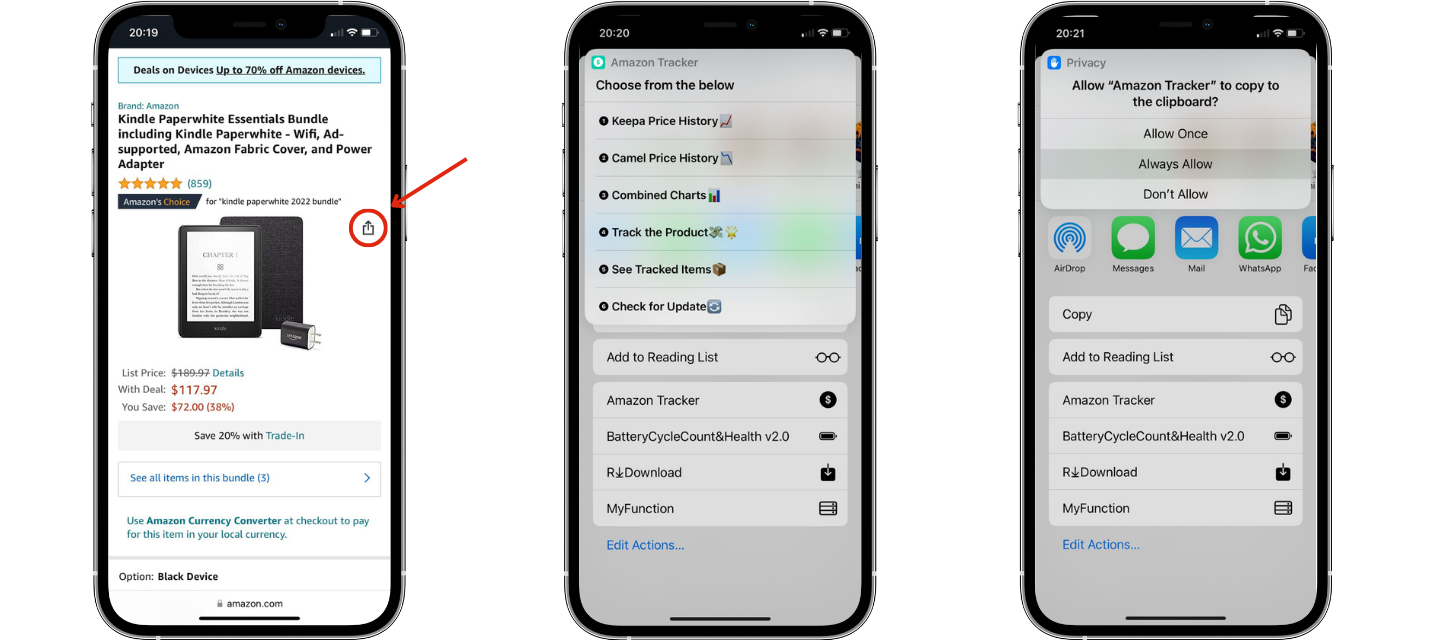 We can view the price history of the product from two different sources (Keepa & camelcamelcamel), either separately or together for comparison, as shown in the image: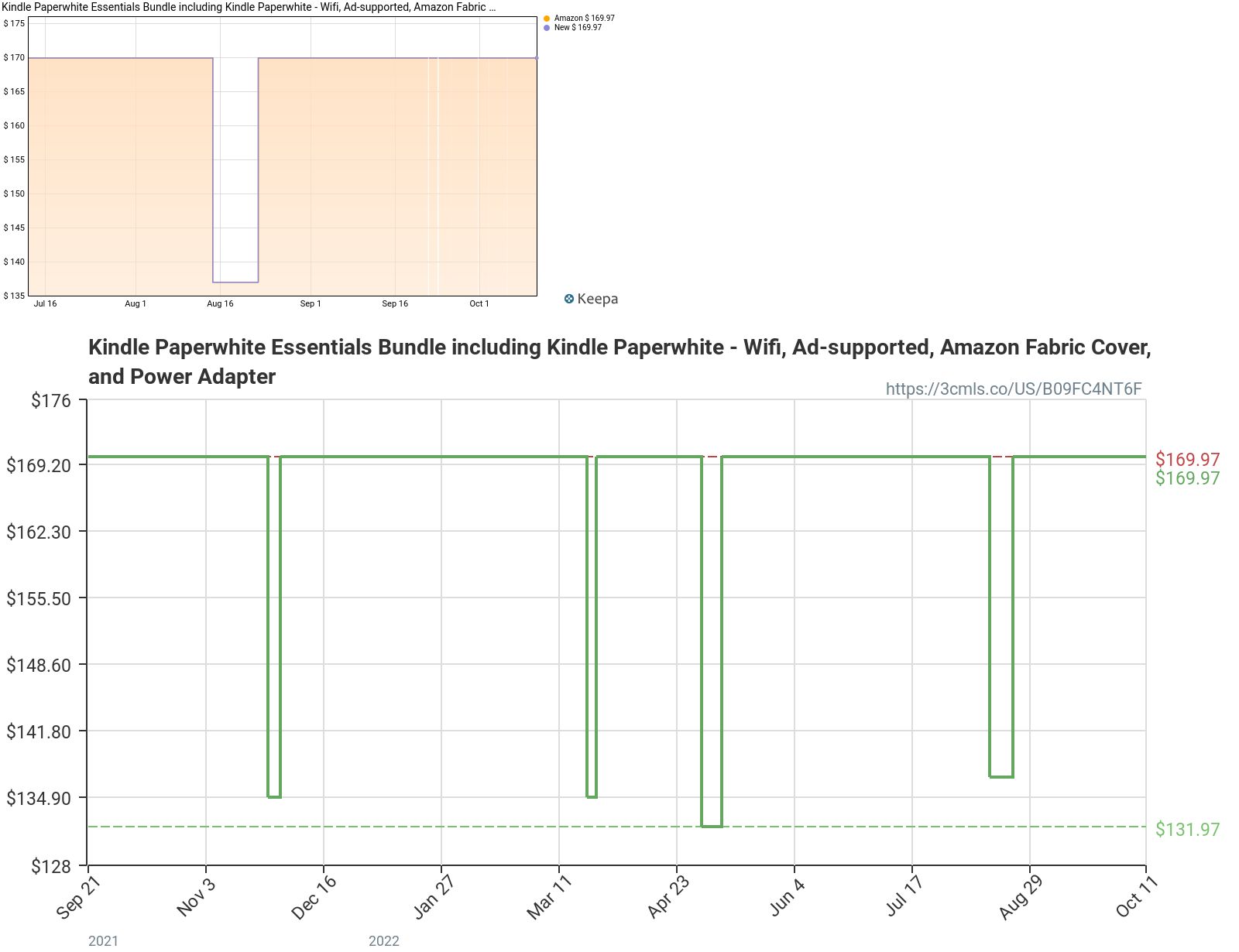 You can save each of the generated graphics as an image, to view them later or share them with friends.
Also thanks to the Keepa integration, by logging into your Keepa account, you can register the Amazon products you want to track the price and be alerted when the price drops.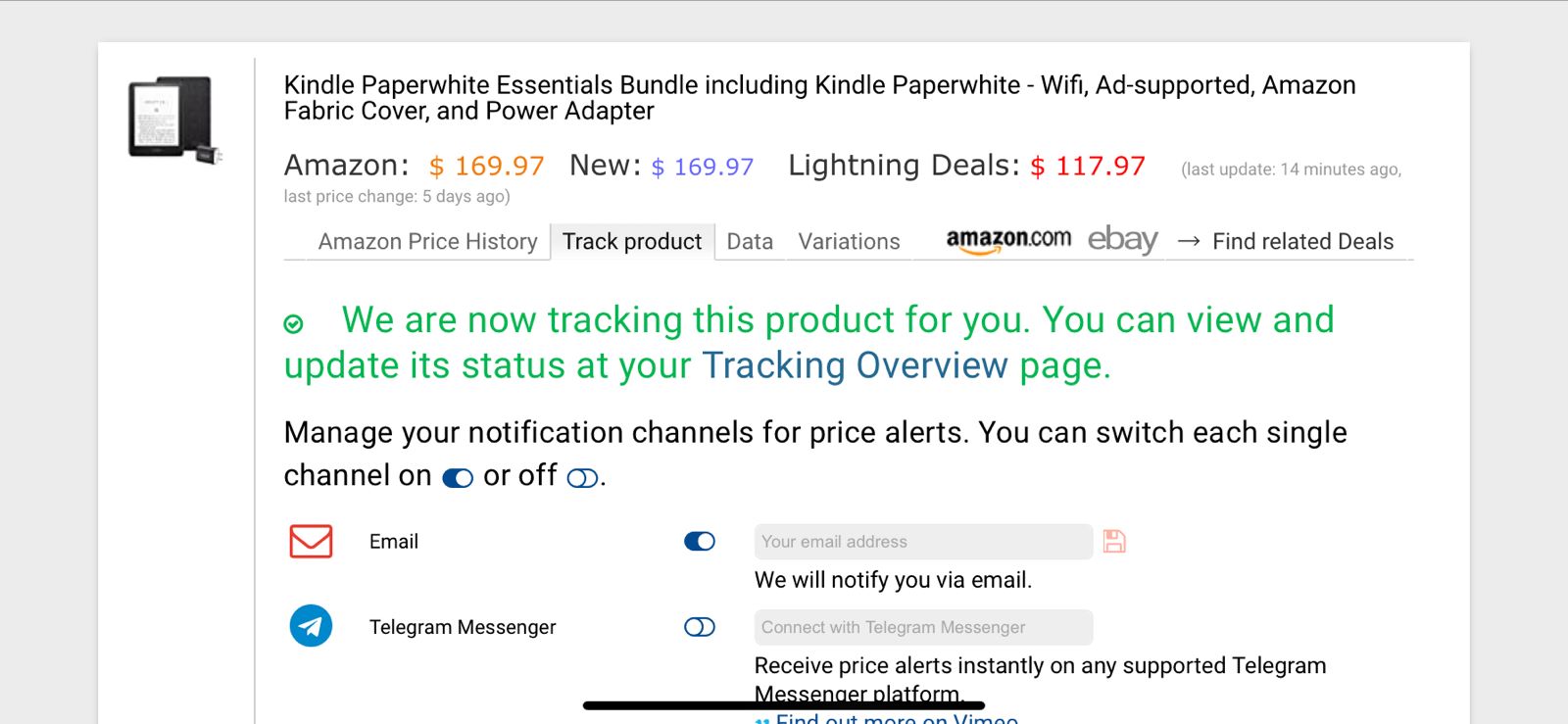 App Store Price Check is the best shortcut to hunt App Store deals, with a single tap you can check the price of any app, game, or tool in the App Store, and not only that, but you can also create an automation to check when the price of an app is down, a very important feature is that it works in any region of the world.
With this shortcut, you will always be updated, because it is developed by @mvan231, a very active community developer, who is constantly fixing bugs and updating it, so that it always works in optimal conditions.
Getting started with App Store Price Check
To start we add the shortcut from RoutineHub, once it is ready, we run it. And it will not ask to select the region where we are, as we can see, there are all the regions where App Store is available, so it works in any region of the world.
The developer included the selection of the region 3 times, to ensure that it registers correctly and there are no failures with the search and registration of Apps through the shortcut.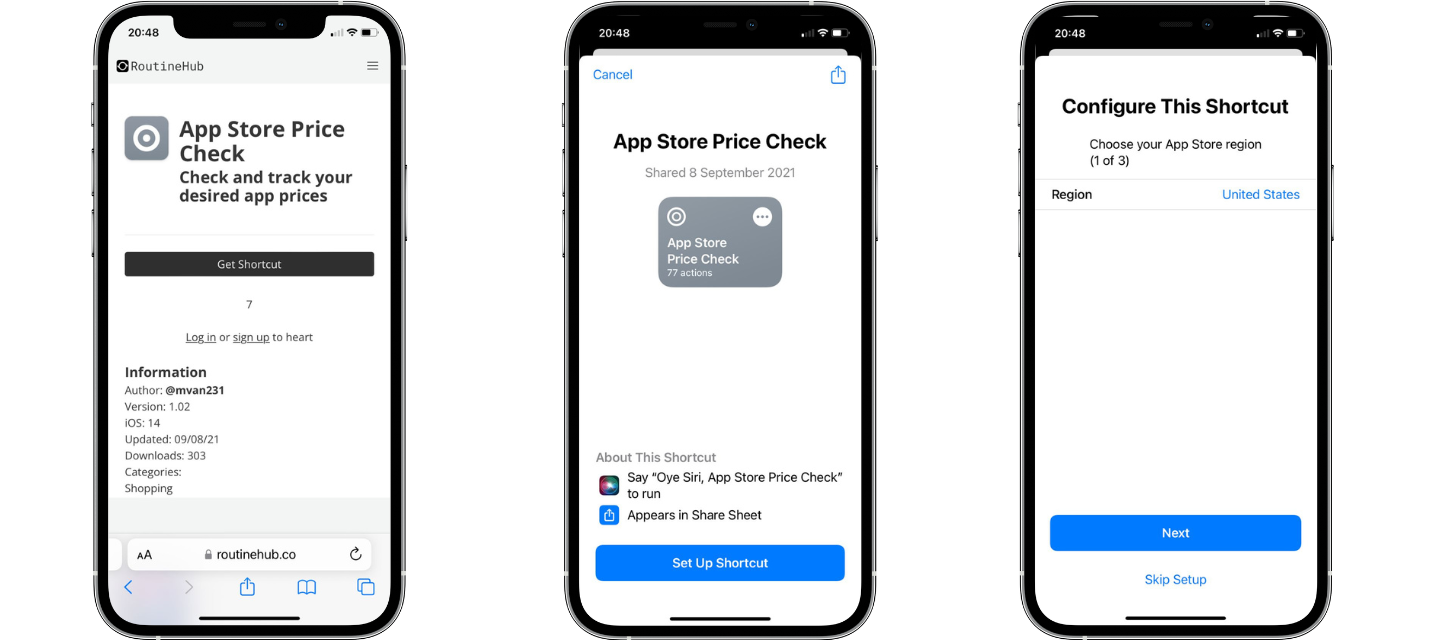 Once we have fully configured our shortcut, we can continue to run it, through this shortcut we can directly search for the app we want to check the price and register it in the Shortcut database to be able to track the price.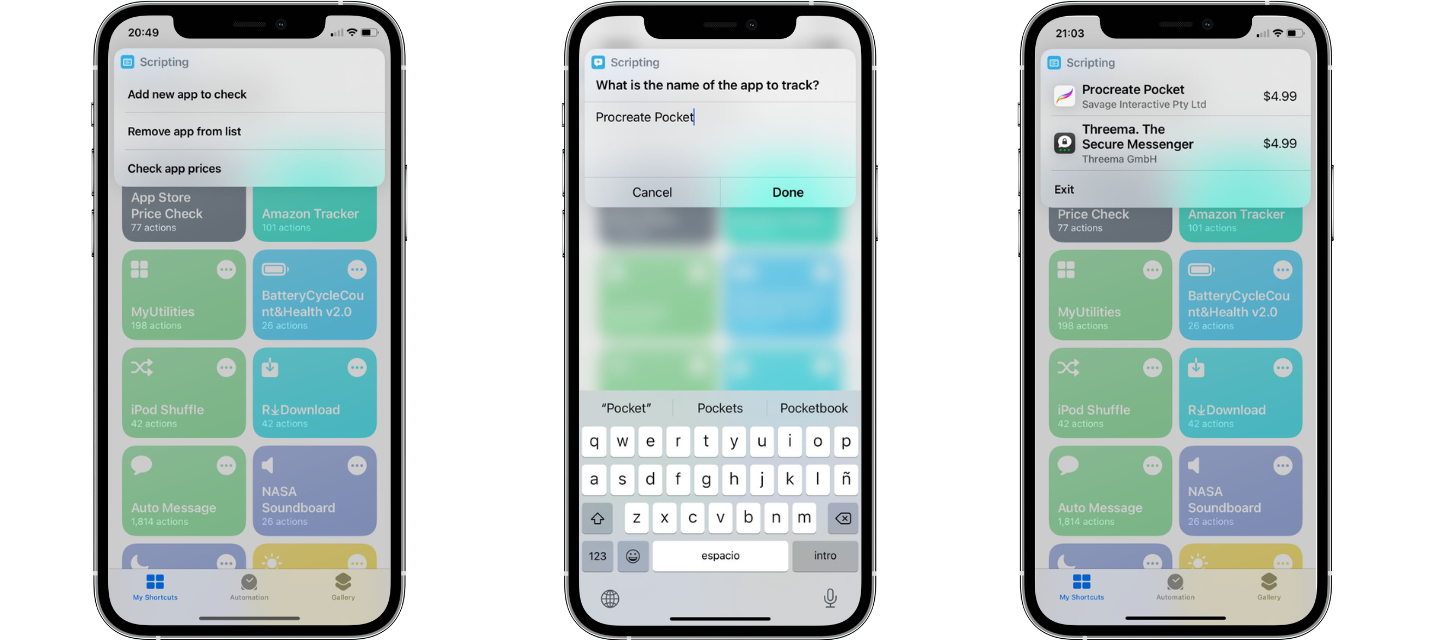 This shortcut gets the price of the Apps you entered at the time you want, and in case you want to receive an automatic price update, it is very easy to configure, just add an automation where App Store Price Check is run with a text input containing "Check".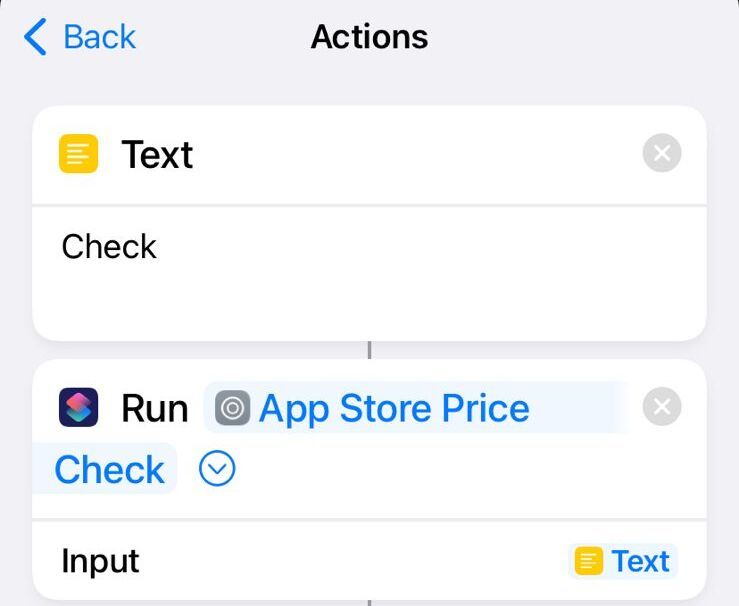 Once this is done, the moment an app drops in price you will be notified.
Examples of notification when a price difference is found
Here are some screenshots taken by the developer of this shortcut @mvan231, in which we see how is the notification when a price difference is found.
Before ending the article, we want to thank the developers who helped us to curate these great shortcuts: @gluebyte and @mvan231, who are also two of the best developers in the community, and very active members with great ideas.